Earlier in May the opportunity arose for four students to attend the Agrolympics in Poland. The Agrolympics is a competition including the participation of 20 counties all proving their agriculture skills and going for gold. I was lucky enough to be included in one of the four to attend. Myself, Carl Tuck, Izaak Lark and Jack Hensby made up the team representing The United Kingdom. This was an achievement in itself, just to be picked for the team made me ecstatic, let alone thinking about how much of an amazing time we were going to have when we travelled to Poland where it was hosted this year.
The morning of the flight
Jack, Izaak and myself started off the journey to Stanstead airport via McDonald's. We all filled our faces with several iced coffee's and McMuffin's. After our enjoyable breakfast the decision was made for me to have to trade my spot in the front seat with Jack because he just couldn't maintain a comfortable sitting position in the back seats with legs as long as the Eiffel Tower. Izaak travelled comfortably with his sunglasses beaming the reflection of the early morning sun.
2 hours later and we arrive at the airport. With steel toe-cap boots on our feet, mud stains on our arms and a Union Jack flag wrapped proudly around our backs, we were ready to venture out of Norfolk (a rare occurrence for all of us). We cracked open our cans of Red Bull and patiently waited for Carl, Becca and Charlie to arrive ready for our grand departure. As we waited we gathered an understanding of what normal people (non-farmers) do in their day to day lives! It appeared many people had the day off, and mostly likely a couple of weeks to go on a lovely luxurious holiday.
We were soon joined by Charlie, Becca and Carl. Through the check- in gates we ventured, and over yonder security we continued. By complete ACCIDENT we stumbled across the duty-free Oakley sunglasses stand. Well this was like a bee to nectar for all of us. Several hundreds of pounds later we all had our seasonal pick of Oakley's, ready for the return of the English harvest. Further on we ventured. We found ourselves at table 310 at the World's biggest three-story Wetherspoons pub! We had some time to kill before our flight and so the obvious thing to do was to have a knock-off, dirt cheap breakfast accompanied by a lovely, refreshing (non-alcoholic) beverage. It was Carl's birthday on the morning we flew out and he was clearly feeling a little too confident. I ordered myself a fruit salad, in an attempt to make up for the McDonalds earlier consumed. I left the table for no more than two minutes and when I returned, to my utter disgust, it seemed Carl had bravely eaten the whole of my fruit salad. Happy Birthday to him!
The time came to board the plane and after having to mother Jack the whole way through security, I really needed that seat on-board…
The Grand Arrival!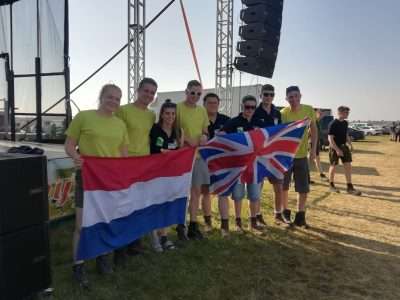 TOUCHDOWN! Time to attempt conversation with the French team we were sharing a coach with. With a quick and mumbled 'salut' we said our hello's. Then began the bus journey to where we were staying for the next 4 days. We were amazed by the different ways in which the Polish noticeably farmed and managed their land. The fields were much smaller and divided into small sections hosting multiple different crops. It seemed everyone in Poland had their own small holdings. This was eye opening to say the least. Once we arrived at our accommodation it was time for our induction. We had a meeting with the rest of the countries and had the competition rules and requirements explained to us. After this we soon made friends with the Dutch team who shared our love for country music and matched our some-what excited energy.
Day One
Day one started out with a sip of Polish orange juice and a couple of freshly picked fruits. We took part in events such as tele-handler bale stacking, bee hive creating, dolly-trailer reversing and bale stacking. It appeared we were lacking as a team when it came to our physical strength and ability in comparison to the other teams. Jack raised a point worth considering, was this because we are so used to operating machines to carry out simple tasks that as a country we are further forward than most? We continued to try our hardest and do our country proud. The support and encouragement we received from Charlie and Becca was very motivational. The sun was blistering and we had a few moments in-between events to gather ourselves. The event itself was similar to the Royal Norfolk show, with demonstration stands and stock showing, it was enjoyable to gain a better understanding of how different cultures present agriculture.
On the completion of day one we left the event feeling physically drained and exhausted from the efforts we made to compete. Izaak was nursing a bad bout of 3rd degree sunburn on top of his already formed tractor driver tan lines. Carl spent his coach journey in dreamland showing the other countries how the English like to nap when and wherever possible. Jack spent his time trying to explain to the Netherlands how he works 24 hour days everyday irrigating potatoes on his favourite red machine (which they recognised was a Massey Ferguson). I spent my coach trip reflecting on the day, thinking I should probably get into the gym when I get back home so if I ever need to manually stack bales again I can do it with ease.
Day Two
Day two was less intense and more focused on the manual operations side of the competition. Jack proved his talent in loader operating and showed determined and focused on quickly stacking bales, 5 high in an attempt to finish with the fastest time! Day two was the day that made us Champions (well at least for something).
Overall Experience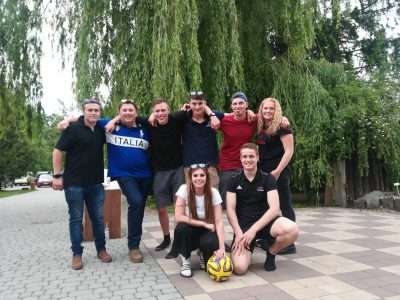 Every single one of us thoroughly enjoyed the well-put-together event and arriving as a group of friends already before hand really helped us with team spirit and support. We were without a doubt the most outgoing, fun team attending and we were happy to be recognised for this. The cultural lessons we learnt from being in Poland and socialising with other countries is an important value we will always be able to take from the experience. Even with our defeats we took it in good spirit. We spoke to the other countries with the hope we may be able to visit them and see how they farm! 
This trip was amazing and I can't thank Charlie and Becca enough for being such good role models for us and gracing our team with positivity and pride.
Well done to Carl, Izaak and Jack who individually brought their specialist talents to the group, it was great to be on this trip alongside you all.
It was hands down an experience I would love to re-live.
Mikayla-Mae Glover, UK
Photographed by  Judit Čović
Read our previous article on this topic HERE.