Creating a learning environment where pupils and students see and experience the importance of
biodiversity. Last school year, the innovation project 'Rewilding our school grounds' was based on
this idea. The result is now there: brand new teaching material on biodiversity for Aeres pre-
vocational schools and plans for further development in secondary vocational education.
"It's fantastic that our lecturers, teachers and researchers are joining their knowledge and forces
for this inspiring teaching material."
Truda Kruijer (institutional director of Aeres VMBO and MBO) received the teaching materials on the
'Day of Sustainability for Education'. In recent months, the leaders have been working hard on this:
Jetske de Boer (lector Ecologically Wise: Insects & Society) and Marlies Beukenkamp (lecturer
researcher), both affiliated with Aeres University of Applied Sciences Wageningen. The teaching
materials were created thanks to a START budget that Aeres makes available annually for the
development & innovation of its green education. A writing team of pre-vocational secondary
education teachers took care of the realization of the teaching package.
Truda Kruijer: "Biodiversity is an excellent transition theme that belongs to Aeres. We train the Green
Changemakers of the future. I think it is fantastic that our lecturers, teachers and researchers are
joining their knowledge and strengths for this inspiring teaching material, which is now being
integrated into the already available 'green' pre-vocational secondary education learning track.
Biodiversity and sustainability are also themes that concern us all and for which we bear joint
responsibility. This teaching material can therefore be used excellently in, for example, theme
education, biology lessons, science and other subjects." The institute director is also pleased with the
further development of this teaching material for secondary vocational education. Four Aeres
secondary vocation locations are currently working with the material and there is interest in making
this a national elective course.
Remove a few garden tiles and see what happens
In pre-vocational secondary education, the teaching package consists of a lesson booklet and
teacher's manual on biodiversity. The material focuses on the usefulness and necessity of
biodiversity, both in our production systems and in our immediate living environment and school
grounds. Students get to work on the question of how biodiversity on their own school grounds can
be increased. They also look at what they can contribute at home. A small intervention can already
produce visible results. Remove a few garden tiles and see what happens.
Start raising awareness as young as possible
Rewilding is a theme that is close to the heart of teacher researcher Marlies. "Biodiversity on earth is
doing badly. We are becoming less connected to nature and biodiversity is declining. By drawing
attention to this at an early age, we hope that awareness of biodiversity will increase. The younger
the better, as far as I'm concerned. I would like to stand up for this."
Comparative research on your own school grounds
In pre-vocational secondary education and secondary vocational education, pupils and students
actually work on a comparative study on their own school grounds. There, two demarcated pieces of
terrain (so-called plots) are compared with each other for the presence of vegetation, soil animals
and moths. Regular management takes place on one plot, while the other plot is left completely
alone. Marlies: "In this research we look at the plant-insect interaction. And the presence of flowering
plants says something about the ecosystem service pollination." She notes that the Butterfly
Foundation is making Led Buckets available for this research. "Students take photos of the captured
moths and share this information with the Butterfly Foundation. In this way, students contribute to
official and important research!"
Contribution to biodiversity restoration
Monitoring both demarcated plots three times a year provides insight into the extent to which
rewilding contributes to biodiversity recovery. This monitoring is also done by higher professional
education students on the grounds of Aeres University of Applied Sciences Wageningen. Although the
first results are hopeful, Marlies cannot yet draw any firm conclusions from the research. "This
requires multi-year research."
The good news is that the START project will be continued next school year. And new Aeres locations
have already registered that want to include rewilding in their educational offering.
Share knowledge more widely
At Aeres secondary vocational education, four educational locations are currently working with the
developed teaching material on biodiversity. There is a chance that more secondary vocational
schools in the Netherlands will start working on this. The coming school year will be used to
investigate the possibilities for a national MBO elective 'Rewilding'.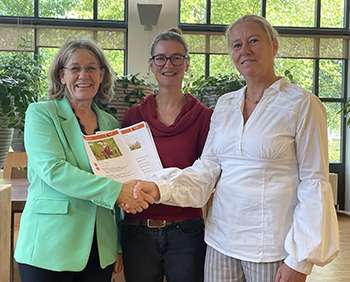 (Source pics and text: Aeres / Jan-Willem Noom)