Teachers mission
In Räpina School of Horticulture works about 55 teachers and one of them is Mairold Mänd. Mairold is the 24-year-old young teacher who studied both horticulture and landscape gardening before he started to teach others. During the study period, he took part in several international and local landscape gardening competition. Now it is time to transfer knowledge and skills forward to young contestants. He says that his mission as a teacher is to motivate young people to appreciate work done with their own hands.

Improving our world with the power of skills – WorldSkills bronze in landscape gardening in Abu Dhabi 2017
The important part of his vocational study has been competing in landscape gardening competitions – started from local school competition and ended up in WorldSkills in Abu Dhabi. Mairold has had the privilege to compete in EuroSkills in Göteborg, in Finnish Taitaja and in International competition in China. In total, he competed in 13 competitions and each of them was different. Working in limited time under pressure on a spotlight, yet retaining the best quality and skills are the biggest challenges as a landscape gardener but also as a young student. Now it is time to train and teach students for Estonian championships and hopefully for the WorldSkills. Mairold says that the vibe and the feeling that comes with these events are irreplaceable and he would be honored to see his students compete.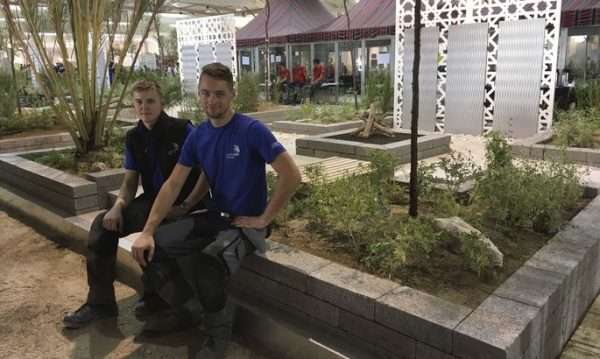 Will be continued…
Angela Koort
head of the landscaping department
Räpina School of Horticulture
Mairold Mänd
landscaping teacher
Räpina School of Horticulture