MORALEJA RURAL TRAINING CENTRE OFFERS PROFESSIONAL CERTIFICATE IN BEEKEEPING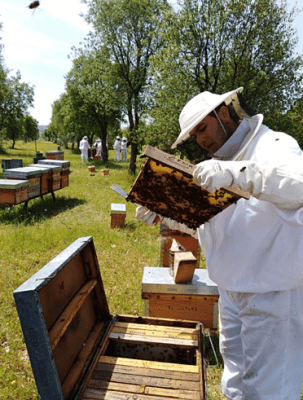 A beekeeping course is offered at the Moraleja Rural Training Centre in Moraleja. The students acquire the professional qualification to work in companies in the sector or to create their own beekeeping farm. The duration is four hundred and twenty hours. The contents are structured in five training modules:
M1: Determination of the Type of Operation and Installation of the Apiary: The Sector. Operating Models. Organization of the colony, Taxonomy and Races. The Physical Environment. Pollination and Flora of Beekeeping Interest. Regulations, Aids and Incentives.
M2: Management of the apiary: Maintenance. Sanitation. Feeding and multiplication of beehives.
M3: Obtaining and Conditioning of the Products of the hives: Obtaining pollen, propolis, wax and poison. Extraction of honey. Production of swarms, breeding of queens and obtaining Royal Jelly. Packaging and Storage of the products of the hives.
M4: Packaging, Storage and marketing of beekeeping products.
M5: Professional training courses.
The Center has its own apiary, as well as workshop, extraction room and warehouse. There are also numerous visits to professional holdings.

Mr. Jose Luís López García
Headmaster of CFMR de Moraleja – Cáceres