Belgium is…  Just Belgium.  And thus an uniquely phenomenal.
When did it all start?
Was it at the moment Julius Caesar wrote: 'Horum omnium fortissimi sunt Belgae' (Of all the Gauls, the Belgians are the bravest). Well, it took 19 centuries to form a country since then. So, it can't be that.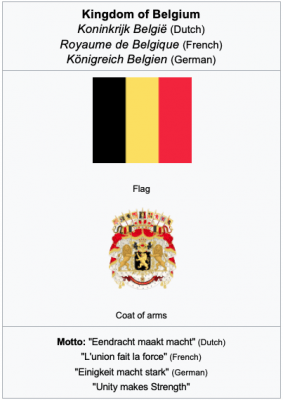 'Historically, Belgium was part of an area known as the Low Countries, a somewhat larger region than the current Benelux group of states that also included parts of northern France and western Germany. Its name is derived from the Latin word Belgica, after the Roman province of Gallia Belgica. From the end of the Middle Ages until the 17th century, the area of Belgium was a prosperous and cosmopolitan centre of commerce and culture. Between the 16th and early 19th centuries, Belgium served as the battleground between many European powers, earning the moniker the "Battlefield of Europe", a reputation strengthened by both world wars. The country emerged in 1830 following the Belgian Revolution when it seceded from the Netherlands.'

In the following link you will find 99 reasons why Belgium is a unique phenomenon. 99 reasons because 100 reasons would be just over the top. http://www.eigenzinnigfenomenaal.be/en
Source: Wikipedia