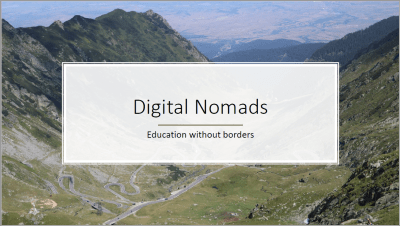 Yuverta TVET College, in the Netherlands, is busy with creating new ways of education in the 21st century. The pitch that  was given during the EUROPEA congress was about Digital Nomads and exploring opportunities for learning outside the school building, learning at any place any time.
We are looking for partners who want to join and explore in on the Digital Nomads (sub)project and make it an international one.
Hopefully you or maybe one of your co-workers have gotten enthusiastic and would like to be involved. Working on your every day projects while building an international community, making travel programs and creating an international network at the same time. Who wouldn't like that?
More about the project proposal 👇
English language does not have to be a barrier, because there is a French speaker among our dedicated team.
La langue anglaise ne constitue pas de barrière car il y a une personne de la nationalité française dans notre équipe.
We can imagine that you have a lot of questions, thoughts, ideas or maybe a big yes for corporation. Therefore, we would like to invite you for an online Q&A on November the 17th, 2022. In this Q&A we will also share an update from our site on the ongoing project (scheduled departure is March, 2023).
You can join the online Q&A from the 17th of November at 16:00 (Amsterdam time) by clicking here!
If you are excited and can't wait till 17th of November, please contact us! We are happy to get in touch with you about Digital Nomads anytime.
On behalf of Yuverta TVET College, The Netherlands,
Karin Elferink k.elferink@yuverta.nl | Program manager international | English, Dutch
Bjorn Hillebrandt b.hillebrandt@yuverta.nl | Project manager and teacher | English, Dutch
Isabelle van Eijk i.van.eijk@yuverta.nl | Project member and teacher | French, English, Dutch
Tatjana Fens t.fens@yuverta.nl | Project member and teacher | English, Dutch