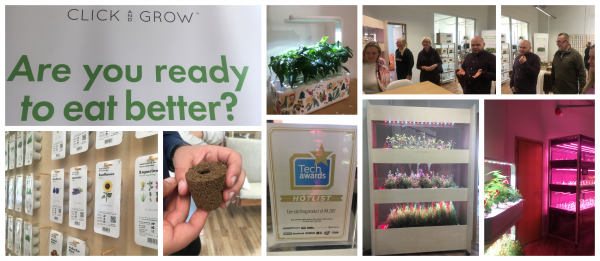 Teachers of Räpina School of Horticulture visited Click & Grow office in Tartu (EE). One-year long cooperation has raised the horticulture studies to higher level. Students are interested in new technologies, so are teachers.
Click & Grow is an Estonian startup, founded in 2009 which has developed a smart indoor gardening technologies for homes, offices and restaurants. Their current flagship products, the Smart Gardens consists of water reservoir, a special wick system that automatically water the plants, LED-lights and growth medium capsules called Smart Soil. Their first product, a smaller version of Smart Gardens called Smart Pot was launched in 2012. Today, most required products are small-fruited tomatoes, chilli, wild strawberries, salad and herbs like Thymus, Origanum, Lavandula etc. The company puts a lot of focus on customer service ane they even have a dedicated branch of gardeners who give advice to people.
Click & Grow is a global company which products have been sold to more than 150 countries in the world and used in many high-tech company offices like Google. One of the biggest challenges for the company is choosing the right plant varieties and developing the right nutrient ratio for the substrate. Here the Räpina School of Horticulture can give a helping hand. During last academic year, several experiments have been carried out with different plant varieties and nutrient ratios. This year, research continues with the help of students and the guidance of teachers and company staff. 🙂
Watch the following videos on how the Click & Grow Smart Gardens works.