Culinary Heritage Centres – Participation in the European Culinary Heritage Organisation – A Gift for the 

100th Anniversary of Latvia
!

The year 2018 is the 100th anniversary of Latvia. Latvia celebrated its 100th anniversary on November 18, 2018. It is common to receive gifts on such occasions. Latvian vocational education institutions also prepared a present for the anniversary of Latvia. The regional culinary heritage centres were established: Ogre Technical School – Zemgale Culinary Heritage Centre; Kuldiga Technology and Tourism Technical School – Kurzeme Culinary Heritage Centre; Smiltene Technical School – Vidzeme Culinary Heritage Centre; and State's Limited Liability Company " Riga Technical School of Tourism and Creative Industry" – Latgale Culinary Heritage Centre. All the regional culinary heritage centres joined the European Culinary Heritage Centre and became members of the European Culinary Heritage Network.
Vocational education is becoming increasingly important in today's rapid technological development and societal change. The competitiveness and development of a country is ensured by a highly qualified workforce. Therefore, on October 31, 2018, the Ministry of Education and Science and the Vocational Education Association organized the Vocational Education Students' Forum "Contemporary Professional Education in Latvia", in which the students together with the politicians and industry representatives discussed the issues of  vocational education development in order to achieve excellence in the vocational education.
Within the framework of the forum, a demonstration and tasting of the Latvian dishesfrom the regions (Kurzeme, Zemgale, Vidzeme and Latgale)took place. Participants of the forum were able to taste more than 24 different Latvian traditional dishes, highlighting the uniqueness and attractiveness of Latvia as a country.
The recipes and ideas obtained formed rich celebration tables in the honour of the 100thAnniversary of Latvia.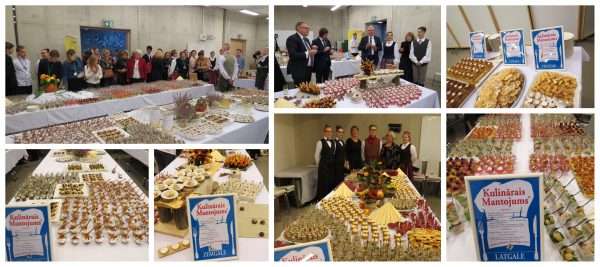 Ilze Brante
EUROPEA Latvia