October 29-31, 2017 – Madrid, ES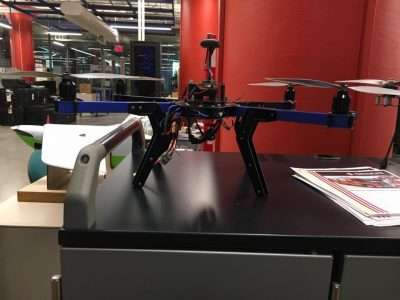 EUROPEA school Green Academy, Aarhus, DK has just started a new project called DEP (European Drone Platform). The Kick-off Meeting took place in Madrid, ES and was hosted by Spanish Confederation of Education and Training Centers. The goal was to clarify all the open questions, activities and tasks related to the project. In the upcoming two years partners are going to work on this exciting new topic.
Follow their progress on FACEBOOK.
More details on the project below:
PROJECT TARGET GROUPS
Teachers, Trainers
Students
Policy-makers, researchers, media and academics involved in VET
Experts in the field of planning VET Courses
Experts in the field of training
Experts in the field of agriculture
OBJECTIVES:
To include innovative technology in VET specifically in agriculture curriculum.
To develop a Drone Course at the European level.
To increase the skills and knowledge of teachers in the area of drones and their ability transmit and implement it on the learning process of their students.
To prepare students with the skills to find a job more easily.
To train other trainers to acquire current knowledge and to prepare them to transmit that information to their students.
To unify agricultural sector between countries.
To convert countryside and agricultural job in an attractive career for youngsters.
To learn from the different countries participating in the project and their national legislation, the uses of the drones in their countries and the trends drones are initiating.
To establish a network of knowledge and exchange of ideas at European level that helps to learn and acquire the necessary skills to use drones.
With DEP project, we plan to train people who will be able to have competences in dealing with drones and that would materialize in:
Competence in building a drone and identifying the required components and assembly for a proper operation.
Competence in flying a drone safety.
Competence in learning theoretical contents about drone's working and its components.
Competence in training others in the use/application of drones
Competence in using the DEP platform in order to look for drone information (legislation, foreign businesses…).
Competence in the application of drones in precision agriculture.
AIMS:
To exchange legislation, knowledges, courses and materials on the use of drone in VET
To make video lessons generated in the training course
To promote mainstreaming
To train teachers, leaders and other school staff in promoting innovation.
To spread around Europe the knowledge on how to use drone in education.
Acknowledgements: many thanks for the info and the pics to Karolina (DK) 🙂