Malnava College of Latvian University of Life Sciences and Technologies (Malnava College) together with the Latvian Fruit Growers Association and other cooperation partners is involved in the implementation of the project "Strawberry growing technology using substrate heating in high tunnels, with or without additional lighting, and optimal evaluation of plant density in high tunnels, for increasing productivity in maximum" financed by European Agricultural Fund for Rural Development, Latvian Rural Development Program 2014-2020 activity "Cooperation" sub-measure 16.2 "Support for the development of new products, methods, processes and technologies". The leading partner of the project is "Aberry" Ltd.
On March 7, 2022, the 4th year students of Malnava College of the education programme "Crop Production"   actively participated in the starting of the third strawberry growing season. Thus, the students involved in the activities are provided with information and knowledge about the research process and the technology of growing strawberries in the greenhouse.
Aim of the project: practical implementation and research of new, economically advantageous strawberry growing technology in high tunnels. Project objectives: (1) extension of the strawberry production season through high tunnel construction, substrate heating and additional lighting: (2) increase of productivity per unit of high tunnel area by using only biological plant protection products and ensuring optimal plant density in the tunnel.
This strawberry growing technology provides a double row (step type) arrangement in the tunnel, thus doubling productivity and increasing the efficiency of tunnel use. The heating of the substrate in both spring and autumn provides an opportunity to further extend the strawberry production season in the high tunnels by using a relatively small amount of heat. This cultivation technology reduces the cost of growing strawberries for early (spring) and late (autumn) harvests. Only the use of organic plant protection products reduces the impact of agriculture on the environment and humans. Additional lighting in the autumn period makes the harvest higher, which it is not possible in other conditions during the autumn in the high tunnels, because the number of daylight hours decreases, the strawberries do not ripe even at a sufficiently optimal air temperature.
The results obtained in the project and the real reflection of the cultivation technology in the environment will allow to evaluate all the advantages of the method. Systematic documentation and analysis of the agronomic activities carried out during cultivation, the use of heat, light, nutrients and biological plant protection products will allow the development of optimally efficient cultivation technology for earlier and maximally later berries yields in high tunnels. This cultivation technology can be adapted in the growing other fruit crops in high tunnels. The results of the project can also be used on farms which are specialized in growing other berries such as raspberries, blackberries, blueberries.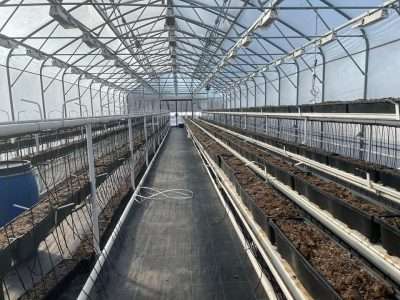 Written by Sandra Ezmale