CAMPO DE CRIPTANA – CIUDAD REAL – SPAIN
EFA Molino de Viento (Windmill) is a high school and VET centre placed in Campo de Criptana, a town of Ciudad Real province. Our training education is mainly addressed to the agricultural sector.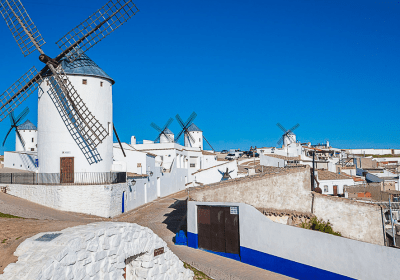 Because not everything is theory …
If our region is known for something, it is for cheese and good wine. And if we know very about something, it is about good wine. For years at EFA Molino de Viento we have been dedicated to training winery professionals, many of them are already studying or have completed higher studies in Enology.
Our training mothology is not only theoretical, but eminently practical, in fact the course begins with the internships: we have worked on the collection, storage and processing of grapes in the workplace. But, in addition, we have our own winery in the center and there we have also dealt with all these aspects of wine.
Currently our wines are already in the process of clarification and stabilization, surely in November we can bottle them and enjoy them at Christmas parties.
Our current production is white wine (airén variety), rosé wine (red variety velasco) and red wine (red variety velasco, tempranillo and cabernet-sauvignon).
For February we plan to make a sparkling wine with our white and rosé wines, whose results we can enjoy at the end of 2020.
To bring all this to fruition we have the presence of qualified professional professors from the sector who participate and make our students participate in all their knowledge so that, once they finish both the Middle and Higher Grade courses, they are sufficiently qualified to carry out its mission in any warehouse.
Porque no todo es teoría…
Further information at www.efamolinodeviento.org
Mr Cristobal Munzón