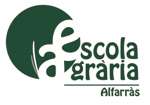 ESCOLA AGRÀRIA D'ALFARRÀS
LLEIDA, CATALONIA
The Escola Agrària d'Alfarràs is a vocational training high school located in Lleida, Catalonia.
EA Alfarràs is involved in training students since 1972 and is specialized in fruit growing, specifically in organic sweet fruit.
We offer courses and technical conferences for adult farmers and young training:
Technician in Organic Farming Production.
Superior Technician in Landscaping and Rural Environment.
In order to offer quality practical classes and provide accommodation to our students we have a farm of 22 hectares and boarding school.