The European Platform for Urban Greening, coordinated by Yuverta College in the Netherlands, met at the Green Academy in Aarhus, Denmark from 26-28 September. The meeting confirmed the partnership's vision to contribute to climate resilience, biodiversity and the health and well-being of all city-dwellers with urban green. It strengthened our goals to boost innovation, knowledge exchange and the development of sustainable green cities across Europe.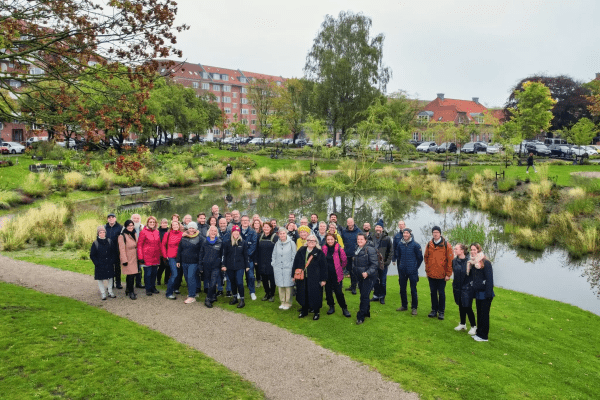 Welcome to the Green
The meeting in Aarhus attracted no fewer than 55 participants from seven partner countries, all of whom were offered a 'welcome to the green' by Green Academy director Peter Moesgaard. The welcome was particularly appropriate as the meeting took place in one of the school's largest machine halls, which for the occasion had been transformed into a spectacular indoor park with grass, tiled areas, tables and benches, trees, bushes and flowers –
all built by the school's skilled landscaping students and their dedicated teachers.
The partners in the Centre of Vocational Excellence (CoVE) in Denmark had put together an exciting and versatile programme:
Nature Based Solutions
In addition to the many project-related tasks, it allowed the participants to visit Aarhus for a guided tour on urban greening by a representatve from Aarhus' city planning department. At Denmark's largest landscaping company, OKNygaard, the parters learned more about the use of Nature Based Solutions (NBS) by the company.
Well-being through Outdoors Teambuilding
Also memorable was the visit to the Karpenhøj Nature Center in Mols Bjerge, where the participants collected ingredients from nature and prepared their own dinner, thus experiencing how nature contributes to our well-being through outdoors teambuilding.
Marselisborg: Rehabilitation Supported by Urban Greening
One of the city's largest green restoration and rehabilitation projects, the Marselisborg Centre, was also visited. Marselisborg combines urban green and climate adaptation with rehabilitation and health. It demonstrated the deliberate trade-offs between e.g. biodiversity and accessibility, but also the many ways nature can contribute to health and well-being in an urban environment.
Island of Excellence 'Domen'
At the Island of Excellence 'Domen' (The Dome), the Municipality of Aarhus facilitates and stimulates a platform for community building, co-creation and sustainable city development. Domen is a prime example of how the Municipality of Aarhus shares the same underlying philosophy as the CoVEs, and brings together different stakeholders to work together on urban greening.
Workshops
The program was spiced up with poster presentations, round table discussions, and workshops where e.g. Makita, Byggros and other companies contributed useful perspectives on urban greening.
Memorandum of Understanding
Last but not least, the partnership signed a joint binding Memorandum of Understanding (MoU) during a public event that was attended by representatives from the Danish National Agency Erasmus+, and interested parties from the United States, among others.
Photo: courtesy of Bart van Rongen / Yuverta
Text: Jan Jeronimus