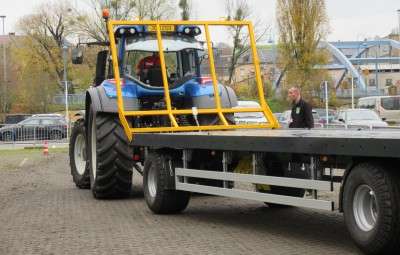 AGROLYMPICS
6-7 November 2015, Däichhal Ettelbruck, Luxembourg
At a marvellous venue and with superb organisation the very first AGROLYMPICS was held in Luxembourg on 6 and 7 November 2015, and it was a huge success. The event was hosted by LTA, Ettelbruck, under the flag of EUROPEA and was backed up by the Luxembourgish government.
The idea of "the Games" came from a man who has been there from the very beginning. Georges Krack, one of the founding fathers of EUROPEA and former National Coordinator for Luxembourg, had been cherishing a dream for years: a big-scale competition with practical tasks of farming that would gather the youth of Europe for a unique agricultural extravaganza.
He and his team worked hard and the vision became reality: 20 teams of 4 students coming from 17 countries had registered and everything was ready for a great event. During the first afternoon 6 disciplines were completed, and on the following day another 12 had to be done by the competitors in order to prove their knowledge and practical skills in different fields of agriculture.
It was a thrilling contest with the leaders changing several times but in the end team Luxembourg 1. finished on top, and the final result was as follows:
Luxembourg 1.
Poland
Austria 2.
The competition was visited by several prominent guests from the hosting country: Fernand Etgen (Minister of Agriculture), Marc Hansen (State Secretary) and Norbert Feltgen (Honorary Director of LTA). Participants of the EUROPEA Seminar, which was running parallel to AGROLYMPICS in the City of Luxembourg, also came to cheer their teams.
The two-day EUROPEA event ended with a graceful Final Dinner and a splendid Award Ceremony at the Double Tree Hotel in Luxembourg City.
Congrats to the winners and acknowledgements to our Luxembourgish colleagues for the fantastic organisation and awesome experiences !!
For detailed results click HERE.For more photos, please, visit our Facebook page.