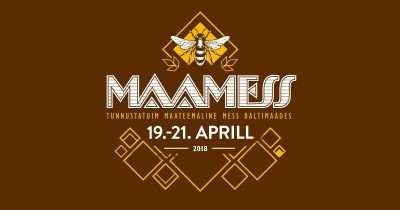 The Agricultural exhibition tradition started in Tartu (Estonia) in 1992 and is still going strong. Maamess (Rural Fair) has become the biggest fair in Estonia and covers 4 different fairs:
26th International Agricultural Exhibition,
24th International Timber Processing & Forestry Exhibition,
24th Food Fair,
20th Gardening Exhibition.
The high quality of Maamess is confirmed by its membership of EURASCO, the organisation uniting the largest agricultural exhibition organisers in Europe, and by its successful cooperation with fairs in neighbouring countries that are dedicated to agriculture and rural life.
Some facts about Maamess 2017:
* 500 exhibitors,
* 43 510 visitors,
* 10 participant countries (Estonia, Latvia, Lithuania, Poland, Ukraine, Germany, Belgium, Denmark, Sweden, Finland),
* 60 000 m2 of outdoor space,
* 6500 m2 of indoor space,
* 800 m2 tent for animals,
* 600 m2 tent for a farmers market.
Maamess will take place on April 19-21, 2018 in Tartu.
Welcome to Maamess!
More information on the Maamess homepage: maamess.ee/en/
Katrin Uurman
EUROPEA Estonia
National Coordinator
leader of the campaign "Month of an EUROPEA Member State"