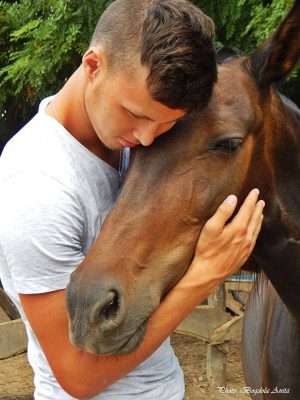 This is Gergő, a EUROPEA student from Hungary, the country of the month. He lives in Bugyi, a small settlement in North-Hungary, and he has always been close to nature and animals. He grew up in a farming family; his parents and grandparents have made a living by cultivating the land.
Gergő is now in his final year at the husbandry course of the FM KASZK Green VET Centre in Vác, Hungary, and he has a truly wonderful international record. During his studies he did an ERASMUS+ internship on a dairy farm in Braga, Portugal. He also attended a three-week course on agricultural machinery at the EUROPEA school Green Academy in Aarhus, Denmark.
He was a proud member of the Hungarian national team at the 1st AGROLYMPICS in Luxembourg in 2015, and he helped the preparation of his peers for the 2nd AGROLYMPICS, which was held in Germany in 2017.
He is going to graduate this July but there will be no stopping to his international career. He has applied for a place at the Kalo Organic School (DK) – also member of the EUROPEA network – and he has been accepted. So, he is returning to Denmark in August 2018; this time for a three-and-a-half-year training.
He says that one day he would like to have a farm that is suitable for taking foreign students because his objective is to promote Hungary as far as agricultural practical training is concerned.
We wish Gergő good luck and all the best with his studies and his plans too 😊
By Judit Covic (HU), leader of EUROPEA Editorial Group