Here you have a story of a Belgian student on an ERASMUS project in The Netherlands:
"Hello, I am Axelle Vanden Berghe, 18 years young and in my final year of biotechnical sciences at the VABI Roeselare I took a course "Urban Agriculture".
In this course the question was asked "What will agriculture look like in the future"? Because, you know it or not, overcrowding and food waste are current world problems that need to take on. We learned here about types of agriculture such as hydroponics, aquaculture, food forests, urban agriculture, …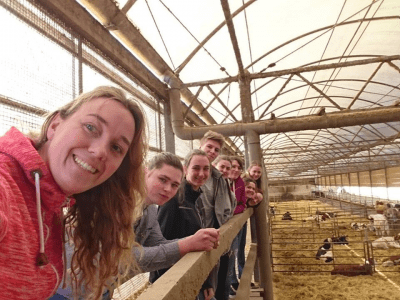 We stayed in the Landal Water Park. In the evening we watched a movie, played board games or talked. Guaranteed fun! Our days consisted of half a day of theory lessons and half a day of company visits. These working and thinking days were interspersed with light-hearted activities such as visiting tulip fields or a visit to the capital Amsterdam. The company visits were mostly local. Almere has a lot to offer in terms of agriculture.
The internship abroad has a greater influence on me than I expected. First and foremost I got to know a fantastic international group with whom there is an immense click. The four Austrians, the three Norwegians and Germans and I are friends as if we have known each other for years. My English has improved surprisingly well, speaking is faster and I am not afraid to express myself. The click to speak another language was surprisingly fast. At one point, I even sent text messages to Dutch-speaking friends in English.
I will carry this three-week Erasmus internship with me all my life. Not only have I made friends, I have also learned a lot about Urban Agriculture. A subject that fascinated me more than I thought. I learned a lot of interesting things that I will certainly take to Belgium with me."
Acknowledgements: many thanks to EUROPEA-Belgium, Axelle (BE) and René (BE) 🙂
Photo: from Axelle 🙂