''Nothing is impossible, the word itself says I'm possible"
From Green Academy in Denmark to California in USA
In Denmark, we have a program called DK-USA. DK-USA program is a collaboration between Denmark and the United States in the field of vocational education. The purpose of the DK-USA program is to support cooperation in vocational education and strengthen internationalization and exchange of good practice for the benefit of the further development of the programs. The collaboration gives students, teachers and managers at VET the opportunity to receive grants for study or internships in the USA.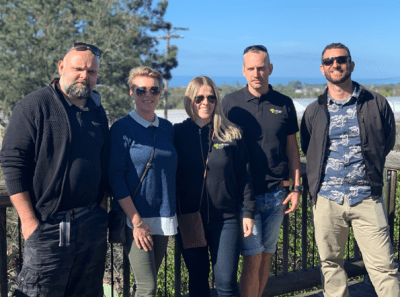 In 2019, 3 students went to USA for 6 months internship. The internship were found in cooperation with The Ohio Program – The Ohio State University. Two students worked for Poul's Landscaping & Nursery, one-hour drive north from Chicago. One student, Mia worked for horticultural company Monterey Bay Nursery, one and half hour drive South from San Francisco.
The school is of the opinion that all the students have very much achieved the set goals for the internship, including that they have acquired a wide range of professional technical and personal skills, which will be very relevant to them in their further work.
Besides students, four workers from Green Academy had a chance to exchange of their good practices with different people they met during the trip in California. The trip started in San Diego and they drove along the cost to San Francisco. On the way, north they visited: Botanical gardens, Community Colleges and different companies related to Green Academy profession. They also had a chance to visit Green Academy student Mia at Monterey Bay Nursery. They came back with a lot of new ideas and contacts that can be use in near future.
Green Academy will be please to share their experience and contacts with all of you. If you have any questions do not hesitate to contact them.
Video from their trip to California: available HERE.

Acknowledgements: many thanks to Green Academy colleagues and Karolina (DK) 🙂
Photos: from Karolina (DK)