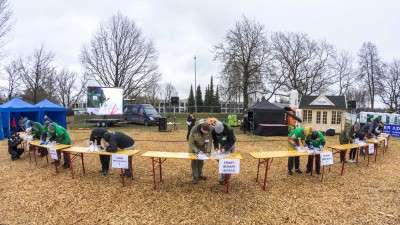 In Tartu, Gardening students demonstrated their vocational skills during the biggest agricultural exhibition "Maamess 2016" on 21st of April. Four teams from Estonian vocational schools (Räpina School Of Horticulture, Luua Forestry School, Kopli Vocational School of Tallinn, Hiiumaa Vocational School) and three guest participant teams where representing Ernst-Benary-School from Germany and Bulduri Gardening School from Latvia.
Competition areas were as follow:
knowledge of plants,
grafting,
building a flower tower according to the plan, using specified materials and plants
building a watering system,
trimmer nylon rolling.
All tasks had to be perform at a predetermined period of time.
Team from Räpina School of Horticulture won the competition while team from Luua Forestry School gained the 2nd position and team Bulduri Gardening School was 3rd place winner.
Competition organizers, Foundation INNOVE and Räpina School of Horticulture thank all the participants!
More pictures from the competition
Next Young Gardeners competition will take place in Tartu at 20th of April, 2017.