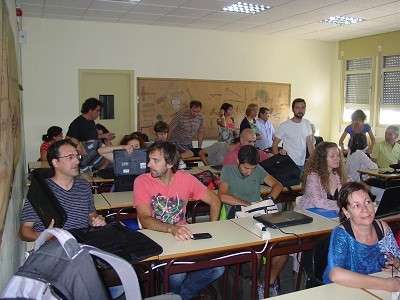 The summer school of Catalan agricultural schools is a training course for teachers which began in 1985 and it has been held since then. It takes place each year in a different school of different district all around Catalonia; this allows participants have the opportunity of knowing well other territories, its history, culture and other different technologies and agricultural systems.  Normally it lasts 3 days, 2 nights, which allows dinners and brotherhood evenings that will enhance ties of friendship between teachers.
The Summer School is supported by the entire network of schools and the Department of Agriculture. Apart from official support to this project, it goes on because it is useful for teachers of different agricultural specialties, who are a minority in the vocational training system. Furthermore, it represents a meeting point where teachers can exchange their ideas and worries.
The themes of workshops are chosen by the teachers themselves. They also choose which agricultural school will be the organizer the next year.
The Department of Agriculture, through the Centre of Agro-rural Studies and Training, finances the costs of trainers and transport, while the organizer school assumes the costs of accommodation and food for participants. The accommodation is usually in the school residence, and the prices are affordable.
The current edition of Summer School 2015 is taking place, from 8 to 10 July in Seu d'Urgell (Agricultural School of the Pyrenees). The workshops topics for this year are:
"Making videos for training and agricultural training"
"Problem-based learning "
"Communication and learning through Coaching and NLP (NLP) ".
Cultural and leisure activities are also programmed for afternoons, which include a tasting of local artisan cheeses, typical dinner of Pyrenees, probably accompanied by some accordion music (in the mountains is common) or other instrument and perhaps a dance all together.
More information and a video in:  www.europeaespana.es