Last year, after winning the  19th edition of "Bacchus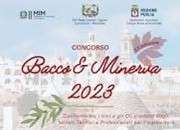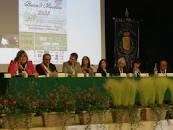 and Minerva" (a competition aiming to compare wines and olive oil of fine organoleptic characteristics produced by the agrarian schools participating to the competition), our institute was tasked with organising the 20th edition.
The competition took place on 3rd-4th-5th May 2023 at our Insitute "Basile Caramia – Gigante" in Locorotondo and, as the competition gathers 35 agrarian schools from Italy, we had the opportunity to promote and give value to our typical products according to the environmental sustainability to face to devastating climatic changes and the markets globalisation. The tourist place where our school is situated is very popular not only thanks to our good food, but also because of our breathtaking landscape of the Itria Valley and of our architecture.
During the seminar that was held for the special occasion, some of the highest office in the region made some serious consideration about the importance of the agrarian schools in this area and the great job that is done to highlight two products of excellence that represent the Made in Italy in Europe and all around the world: wine and olive oil.
(text and pics by Angelinda)