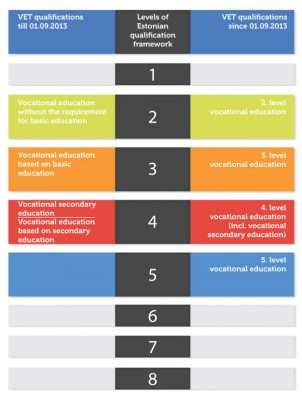 Vocational education serves the purpose of fostering the knowledge, skills and attitudes, occupational know-how and the social readiness required for working, participating in social life and participating in the lifelong learning process.
Vocational training in Estonia is organised by vocational educational institutions and professional higher education institutions.
Vocational education system in Estonia is regulated by the Vocational Educational Institutions Act which provides the basis for the establishment, maintenance, transfer, reorganisation and closure of vocational educational institutions, the basis for the right to provide instruction, management, organisation of studies, state-commissioned education and financing, the rights and obligations of members of schools, and state supervision over the activities of schools.
In 2013, the parliament passed the Vocational Educational Institutions Act that fundamentally changed the regulation of the vocational education system. Among most notable aspects are the following:
defining new categories of vocational training directly linked to the Estonian Qualifications Framework;
extensive use of outcome-based principles in the evaluation and establishing of qualification criteria for types of vocational training, curriculums and for personnel working in the teaching and pedagogical profession;
establishing the right to provide instruction;
defining and implementing the use of the new unit (Estonian vocational education credit points) for measuring study volumes.
Uniform requirements for vocational training are regulated by the Vocational Education Standard.
Vocational education can be acquired in Estonia either in vocational education or professional higher education institutions. At least one vocational education institution operates in every Estonian county. In the 2017/2018 academic year, there are 33 vocational educational institutions and 5 professional higher institutions active in Estonia that offer a range of 160 specialties.
Sources and more information:
http://www.cedefop.europa.eu/de/publications-and-resources/publications/4155
https://www.hm.ee/en/vocational-education
https://www.kutsekoda.ee/en/kvalifikatsiooniraamistik/ekr_tutvustus
https://www.riigiteataja.ee/en/eli/505022014002/consolide/current
Katrin Uurman
EUROPEA Estonia
National Coordinator
leader of the campaign "Month of an EUROPEA Member State"