Wellantcollege welcomes Sri Lankan dairy delegation
From September 2-6,2019 a delegation of dairy farmers, processors, representatives from the Ministry of Primary Industries and the University of Peradeniya visited the Netherlands. They wanted to learn more about the Dutch dairy industry, including the education and training, and how it could contribute to bringing the dairy sector in Sri Lanka to the next level.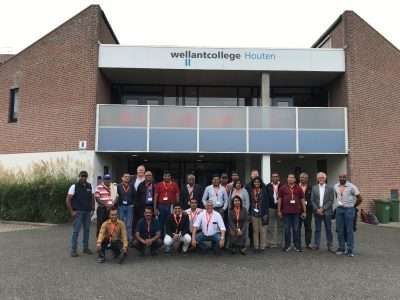 Practical examples
Using the adagio 'Seeing is believing', the delegation got plenty of good practices from field trips. Each excursion covered a part of the dairy value chain of both cows and goats – 'from grass to glass'. Among others, the field trips focused on feed and silage, machinery, genetics, stable construction and design, milking parlours and cold chain, manure management, plus processing and value addition.
To show the relevance of vocational education and training (VET) for the dairy sector, and its strong connection to the labour market, Wellantcollege welcomed the delegation at the school in Houten and at the commercial family farm of one of Wellant's dairy teachers.
Memorandum of Understanding
Sri Lanka aims to become fully self-sufficient in dairy production. Key factor for industry development is education and training. Currently, there's a gap on the level of vocational education and training. Therefore, the Sri Lanka Association of Animal Production (SLAAP), the Faculty of Agriculture at the University of Peradeniya, and Wellantcollege have decided to sign a Memorandum of Understanding (MoU) later this year. Collectively they will develop a VET work-based learning route and launch a Dairy Training Centre (DTC).
EQF and ECVET principles
Both will be based on the European Qualification Framework (EQF) in terms of the complexity and responsibility that are required for different levels of work, and on ECVET principles with units of learning outcomes that eventually will lead to a full diploma.
Acknowledgements: many thanks to EUROPEA-Netherlands and Jan (NL) 🙂
Photo credit: Wellantcollege