The 45th WorldSkills competition took place this year in Kazan, Russia with 56 specialties and 1300 competitors from 63 different countries. There were 12 competitors from Estonia. From Räpina School of Horticulture, Markus Vainu and Matthias Veski competed in landscape building and Maris Paas competed in floristry. Maris had to do 9 works this time, a bouquet for a given vase, a composition into Russian-painted wooden vase, a bracelet, a bouquet in a half-hour for ballerina, a kokoshnik-inspired headdress, a hanging piece based on Russian fabrics, pot plant arrangement, table arrangement using matrjoshkas and a bridal bouquet.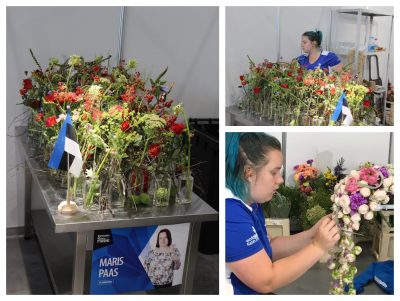 The florist has no idea before the competition what kind of work will be at the competition. The flowers and other materials to be given were not previously disclosed. It means that you have to be prepared to do anything from any materials. And there were surprising works too, the material and theme of which will be communicated to the competitor shortly before work begins. Other tasks are known on the first day and can be discussed with the expert in advance. So the competition is harder than the World Championship for adults, where most of the work is done from home prepared materials and repeated repeatedly before.
Having already participated in several competitions at both EuroSkills and WorldSkills as an expert in floristry, it seems to me that a youth competition has become a cutting-edge sport that requires appropriate training. Our vocational training is currently limited to EQF level 4, but the competitions require young people to be prepared for EQF level 6, or at least EQF level 5. This, in turn, favors countries where the highest level is available in schools, or they have time and money to reach the required level in the short term. Unfortunately, for us both (expert and competitor) preparation for competitions is like a hobby, which has to be practiced at leisure time. In fact, it is a pity for our competitors who, as amateurs, have to face well-trained professionals. And here lays out our results and goals too – not to be the last one and if successful, get a total of 700 points which will lead to a medal of excellence. Last but not least, there are still 20 points to go for the medal in floristry.
Acknowledgments: many thanks to Indrek Kaeli (EE), floristry teacher at Räpina School of Horticulture and expert of WorldSkills floristry competition 🙂
Photos: Indrek Kaeli