Entrepreneurship and an Erasmus+ project 2018-2020
When the oil comes to an end….
The attitude and skills of being creative and come up with ideas for new businesses and the knowledge of how to develop and run an enterprise is highly wanted in Norway. The last decades the Norwegian economy is highly dependent on the oil industry. But as we all know for sure: not renewable energy can only be used once, and our incomes as a nation cannot rely on oil production forever! Besides: all countries need to create new businesses to replace businesses that have stopped their activities and provide the market what the market demands of goods and service.
Teaching Entrepreneurship is the answer….
It is quite common in our country to ensure that all young people learn at least SOME about how to start up and run a business. We have national curriculums at different levels for the entrepreneurship's subjects, and skilled, motivated and even dedicated teachers to do the job. We also have a very well working national JA (Young Achievement) that provide teachers, schools and students with organizational support, and also provide a structure and material for the learning.
In addition or instead of running it as a separate subject, many upper secondary schools use Entrepreneurship as a methodology for the students to learn and train creativity, a positive attitude, responsibility, structure, skills and knowledge that are asked the national curriculum in other "green subjects" at second or third grade at school.
For some students the methodology is necessary to help them get a passing grade in all subjects, and thus prevent early school leaving. All in all; a further development of learning by doing, entrepreneurship and further cooperation with local business are of great importance for our student and therefor for us as a school.
Real ideas, real cooperation, real challenges, real fun…
At Stend Vidaregåande Skule our students have got to run mini-companies as a part of the ordinary education within the program of Agriculture, forestry and fishing for many years. They work in groups and carry out the whole process from finding a good idea for business based on natural recourses of the area, and personal recourses of the students. The next steps are to develop the idea, identify the customers, do the marketing, the production and the sales work, earn real money and spend real money. And after 6 months, the job is to terminate the company, and spend the money they earn on a study trip with the class, or give them to one of the voluntary organization that the school support.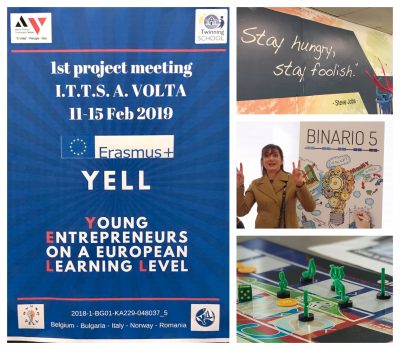 Moving from a local level to an international level
This year we take Entrepreneurship one step further. We are 5 schools of different kind and different size who runs a Erasmus+ funded project called YELL (Developing Young Entrepreneurs by running a mini-company on an European Learning Level).
Partners are:
The main objectives are to:
promote an entrepreneurial culture among young people in EU,
strengthen social inclusion of students from disadvantaged communities, by actively involving them in running mini-companies, orient them towards activities that match their skills and build up their self-confidence and knowledge,
develop our methods of teaching through sharing best practice for teaching entrepreneurship.
The first year our students learn to know each other, and from already established mini-companies and "real companies" how to succeed with running a new business, and to learn what skills, knowledge and attitudes companies really ask for from apprentices and new employees.
Next year, the aim is to create an international mini-company with participants from all 5 countries, and to develop a model that also can be used by others later on.
So why do we run this project?
The schools differ a lot, but we all believe in that entrepreneurial education:
give students tools and knowledge they need to find a job after finishing school
is a good way of learning as it involves more "doing" and less "memorizing", more mastering and less theory.
can be the way of learning that keep the interest alive and prevent potential drop-outs to leave school.
involve doing a lot of different tasks and demand a huge variety of knowledge and skills, which gives all students tasks that they can master.
works for all students, also students with special needs or disadvantaged backgrounds.
learns young people to focus on recourses and options, both in themselves and the surroundings
develop both creativity, enthusiasm and critical abilities.
develop skills for cooperation with others in a good way; also, with people you don't know and may be don't even like.
gives exercises in solving conflicts
trains shy students to rise their voice and communicate the meanings, and the outspoken to lower their voice and listen
gives options to learn to know real, local businesses, get good advice from people with experience, and learn what knowledge, attitudes and skills are considered the most important for a young worker/apprentice.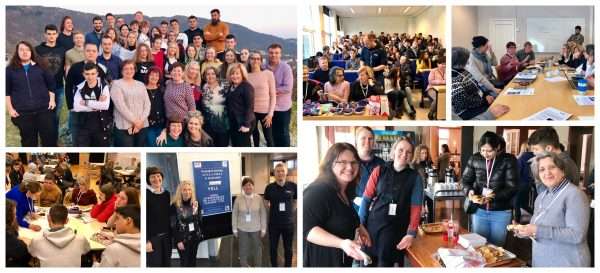 From Italy to Norway
So far there have been two mobilities: One in Perugia, Italy for teachers, and one in Bergen, Norway for teachers and students. We have a lot to learn from each other and we have a lot of fun!
In the mobility at Stend Vidaregåande Skule in April 2019, our Norwegian students were of hosts for the guests, showing the school and the city, explaining new things in English etc. Actually, this activity is a part of another development project at our school, CLIL, that aims to combine learning English language with learning vocational themes. It was a new experience for most of them, and for some it also was at the border of their comfort zone. But they were very well prepared and managed very well! As teachers, we were proud and impressed!
The students also got in touch with different local businesses, who shared their experience and thoughts, inspiration and good advice.
And the advices are…
Find something that you love to work with
Appreciate the different recourses that your classmates and companions bring into the group
Do your very best!
"Be afraid! Be very, very afraid!" Accept that to create something new, you need to push and extend your comfort zone, and that some portions of stress are a part of it. Being a bit scared, helps you to perform your very best and brings you further, so embrace it!
Will we manage to create the first international mini-company?
At the last day in Norway the students took the very first, small steps to find good business ideas for their future, international mini-company. Exciting!
We look forward to follow, challenge and support them during the next year!