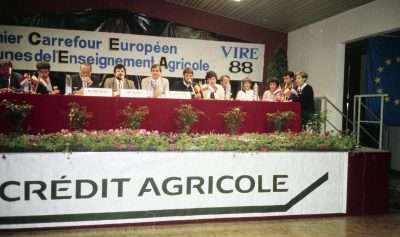 In 1988 the first Carrefour meeting launched the cooperation of Green VET schools in Europe. The time was right for more great things to come.
In 1989 France celebrated the Bicentenaire, 200th anniversary of the French Revolution. As part of the festivities, the spectacular "Grande Moisson" (Big Harvest) took place on the Champs Elysées in Paris on 24/06/1990. It was an outstanding event during which the famous avenue was turned into a huge field of crops overnight. Then, the next day it was harvested displaying ancient and modern techniques, tools and machinery in an impressive fashion.
It was a tremendous success. The French Ministry of Agriculture, also responsible for Green VET, decided to build on that and organize something equally spectacular in the field of agricultural education.  Using the concept of a sporting event that took place during the Bicentenarie, the idea popped up to gather Green VET students from all the EU countries in Strasbourg in May 1992.  The Ministry had several responsible persons working on the task: Jacques Bourdreux, Françoise Arthus, Max Gotesman, Nicolle Maquignon, Annie Burguet, Eric Grognier.
Also, the already established circle of CARREFOUR friends was asked to help with the organization. Thus, the two French founders, Jean-Luc Ravat (ꝉ) and Annie Bouatou were actively involved in the groundwork. The name Carrefour de l'Enseignement Agricole (Crossroads of Agricultural Education) gave the basis for branding this new movement as l'Europe de l'Enseignement Agricole (Europe of Agricultural Education) or EUROPEA.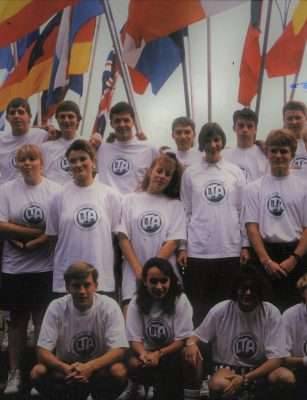 During the next period the organising team met several times; in Luxembourg, France, Belgium and Italy in order to get everything ready for the "May 1992 in Strasbourg" project. Apart from adults, these meetings were also attended by youngsters, Pionniers du Savoir Vert (Pioneers of Green Knowledge).
At the reunion in Paris (FR) a supervising team named COE Comité d'Organisation EUROPEA (Organizing Committee of EUROPEA) was established and while Luxembourg held the EU presidency that year, Georges Krack (LU) was appointed the first president of COE. This way it became easier to get financial support for the Strasbourg meeting. (A routine we still keep today with the organisation of our bi-annual seminars.)
Finally, this milestone event with the ambition to bring together 2000 (!) Green VET students and teachers officially got on its way with an opening act on 16/10/1991 in Luxembourg.
Stay with us and find out more about "May 1992 in Strasbourg" in our next article 😊 Until then:
Salute the founders and long live EUROPEA!
Acknowledgements: Many thanks to Georges (LU), the first president and Fons (LU), one of the pioneers who got to Strasbourg in May 1992 🙂
By Judit Covic (HU), leader of EUROPEA Editorial Group for the 30 years of EUROPEA campaign, 2023
Based on the documents entitled "Europäische Projekte" and "EUROPEA-Historique" by Georges Krack available in German and French here: Recollections