Peat Valley – The Golden Triangle
PEAT VALLEY is an international string of pearls, i.e. areas of low-lying wetland from the United Kingdom to the Baltic Sea. This project page is the result of the work carried out by the participants in the PEAT VALLEY project showing the results related to PEAT regions and the so-called 'Golden Triangles' that have been formed from it.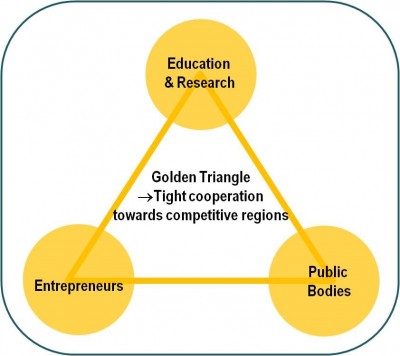 Learning in and with the region was the idea of the Green Knowledge Cooperation, part of the Dutch Ministry of Agriculture. AOC Terra and the Region Veenkoloniën have further developed this approach as a new educational experimental learning strategy.
This unique collaboration between businesses, public bodies and knowledge institutes in all its appearances shows what an international partnership, funded by the LLL-program Leonardo da Vinci, can bring us.
PEAT VALLEY started by combining the two existing networks Nordconnect and EUROPEA International. Both partners have an excellent reputation in European partnerships and projects in their own fields of action and are partners in one of the two networks.
In the final report uploaded on this page you will find the answers on how to create a complex network such as the PEAT VALLEY. Here, we first introduce the PEAT VALLEY network and its main concepts. Then the partners will show not only the challenges and the possibilities they have met during this partnership project, but also the opportunities they have to develop in their own regions. Last, but not least, you will discover how to build new partnerships between various institutions related to different subjects in areas that have similar geographical, socio-economic and employment issues, such as the low-lying wetland areas that make up PEAT VALLEY.
We should not underestimate the importance of producing a proposition to establish a regional agenda (on e.g. bio-based economy and agro business) in relation to knowledge institutes. We must look at creating future employees with international competence. Partnerships engaging students as cooperating members represent a contemporary LLL approach towards integrated learning and working, linking various actors and sectors, and thus preparing young people for the present day challenges.