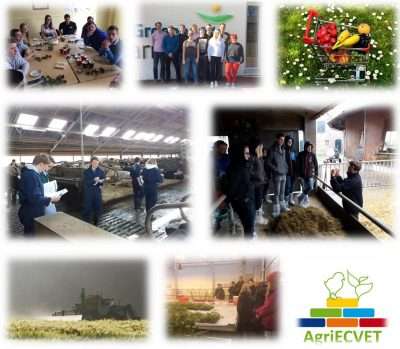 In this project, a group of 6 vocational agricultural schools have ECVET modules in the fields of agriculture and horticulture. Over the past 2 years, the partners have implemented these learning modules in their schools and exchanged students internationally to take part in these modules. The project partners are:
Lentiz education group from the Netherlands;
Bygholm Landbrugsskole from Denmark;
HBLA Ursprung from Austria;
Vrij Agro- en Biotechnisch Instituut (VABI) from Belgium;
Groenhorst College from the Netherlands;
Lena-Valle videregående skole from Norway.
The agricultural sector needs many skilled students to graduate from vocational colleges to fill the many vacancies at the labour market in the subsectors for crop production and animal production. The partner schools wanted to prepare their students extra well for their future jobs in the sector and to make their vocational qualifications more attractive. In this project, the international partners have developed ECVET modules in the fields of agriculture and horticulture. Each partner has developed 2 modules that cover either:
Subjects that are a part of the core of each partner's curriculum in the fields of agriculture and horticulture. The modules cover the subjects that overlap in the partner's curricula, or
Subjects that are innovative in the fields of agriculture and horticulture. Due to their innovative nature, these subjects are not yet a part of the curricula of the schools, but are very relevant for future employees within the sectors!
Each project partner offers courses within their own (national) field of expertise. And each partner sends students to the other partners courses (modules) as part of the students home education programme. In this way, the partnership aims to create flexible, international learning routes for their students. The courses (modules) form the basis for the project partners to work on the recognition of international learning routes into the home curriculum of the exchange students. They use the principles of ECVET to establish this. Please click here for an insight in the ECVET methods used within this partnership.
The project has ended after the 2017 summer holidays, but the partnership will continue to cooperate and invites other European Agricultural Colleges to join in! For the schoolyear 2017-2018 a course calendar has been published. Course titles include:
integrated pest management
hoofcare
marketing of agricultural products
organic farming
entrepreneurship
sustainable dairy farming
Please visit the projects website to view the course calendar. If there are courses on the calendar that are interesting for your students, please do not hesitate to contact the contact person listed on the calendar for more information.
We hope to meet you and your students in our network!
For more information, please contact Arnoud Cremers